Whale Watching in Puerto Vallarta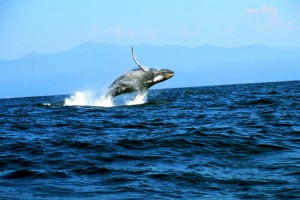 Whale watching is one of the most popular activities for tourists who visit Puerto Vallarta. From conservation standpoint, the Ministry of Tourism of the State of Jalisco has been promoting this activity amongst tourism. According to the experts, the Humpback whales arrive to the Bay of Banderas at the end of November where they mate and reproduce; these experts also mention that the peak months for whale watching in Puerto Vallarta are February and March and begin their migration back north at the end of March and early April.
Watch this video: You would love to see them in action.!!
NEWS:       Friday, February 15, 2013
Orca or "Killer" Whales spotted in Puerto Vallarta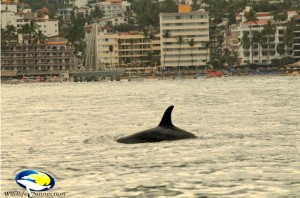 Orca whales, or more commonly known as "Killer" whales have been spotted in the Bay for about a week now. Most sightings have occurred along the area of Los Arcos de Mismaloya and Playa de los Muertos beach. This pod of whales, which includes two adult females, one juvenile male and one baby whale, was last seen this past Tuesday swimming south out to sea.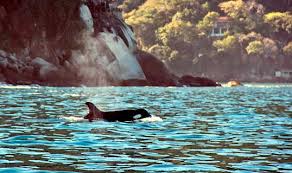 Expert biologists agree that the presence of orca whales in the Bay of Banderas is very common, particularly in the fall and winter months when they hunt for turtles, dolphins, manta rays and even humpback whale calves.
Although there are no reports that orca whales pose a threat to humans, local nature authorities do advise people to stay away from these mammals. Ships should not approach them, cross their paths or follow them. Due to orca's complex social bonds, whales with babies are particularly unpredictable when they feel their family is threatened.