Puerto Vallarta is a combination of old-world country, old village traditions and legends and the modern cosmopolitan world moving steadily and effectively.
The Marietas Islands
Marietas Islands, a 30-minute boat ride from Marina Vallarta. It is a protected ecological park; the Marieta Islands is a home to a vast array of marine life and birds.
Playa Las Animas

Las Animas is a beach with golden sands separated by a road of rocks, from behind; there are the great Sierra Madre Mountains, from the front, with blue tones for its shallow depth, the majesty of the Pacific Ocean. The tranquility of its waves allows swimming, diving and snorkeling.
Los Arcos National Marine Park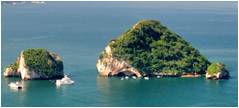 The Los Arcos National Marine Park is located between the beaches of Mismaloya and Playa Gemelas. With deep tunnels, caves, arches and breathtaking reefs: an amazing place for diving and snorkeling where you will find a great diversity of marine life and birds.
San Sebastian del Oeste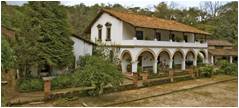 Nestled on top of the mountains of the spectacular Sierra Madre is the historic town of San Sebastian del Oeste. This remote village has kept the charm of colonial Mexico while offering an impressive selection of modern amenities and expansive views. There is little to do in San Sebastian except for relaxing and mingle with the local people. The fresh mountain air revitalizes while the sunset over the mountains provide a relaxing alternative to the lights and noise of downtown Vallarta.
.
Yelapa
This is the meaning of Yelapa, a picturesque town that opens its doors to explore it's landscape. This place is known for its color, traditions and its warm people mainly dedicated to fishing.
In Yelapa you can find a combination of jungles, rivers, calm waters of the bay. Perfect to practice sports activities like diving, fishing and hiking through the village until you reach the waterfall of over 50 meters that descend from the mountains.